With Kaïki Agios Georgios
On Day Trip sailing from Paros to Koufonissia
We start our day by crossing the channel between Paros and Naxos, after about 1,5 hours we make our first stop at a picturesque bay on the southern coast of Naxos Island. Time for our first dip into the blue water under the tiny chapel of Agios Sostis.
Οccasionally Route modification
The further route depends on wind conditions, but we will make sure to choose the best places to stop, swim and snorkel.
If we are lucky we will also see dolphins. Snorkelling equipment is available on the board.
Around noon
We drop the anchor and Captain Yiannis prepares a few "mezedes" and lights up the BBQ, and offers a glass of ouzo, wine and refreshments.
The coastline of the Small Cyclades
Especially that of Koufonisia Islands (Epano & Kato Koufonisi), is fantastic. Amazing rock formations and crystal clear waters from green-turquoise to deep blue colours.
In the beautiful light of the sunset
We sail back to Piso Livadi, after a day full of unique impressions and good atmosphere.
Captain Yiannis
Departs: 09:30 – Returns: 19:00
at the port of Pisso Livadi
Price
Adults: €70
Children 3 to 11 years old: €50
Transfer per person with return: €10
Includes
Lunch, snacks, an open bar throughout the cruise and snorkeling equipment are included in the price.
Transfer from place of residence or hotel to the boat is also available at the price of €10 per person.
Scheduled cruises are also offered as Private or Semi-Private, to celebrate your special event.

Private: you charter the boat exclusively for your party (capacity of the Kaïki is 50 passengers)
Semi-private: You ensure that the trip will happen even if there are few participants, but there might be other participants on the boat than your party
10:30
Stop for our first swim at the small bay of Agios Sostis, a picturesque bay on the south of Naxos with a small chapel built by fishermen after he found shelter from a storm.
In case of strong wind, we will stop for swimming on the other side of the peninsula, at the beautiful bay of Kalantos.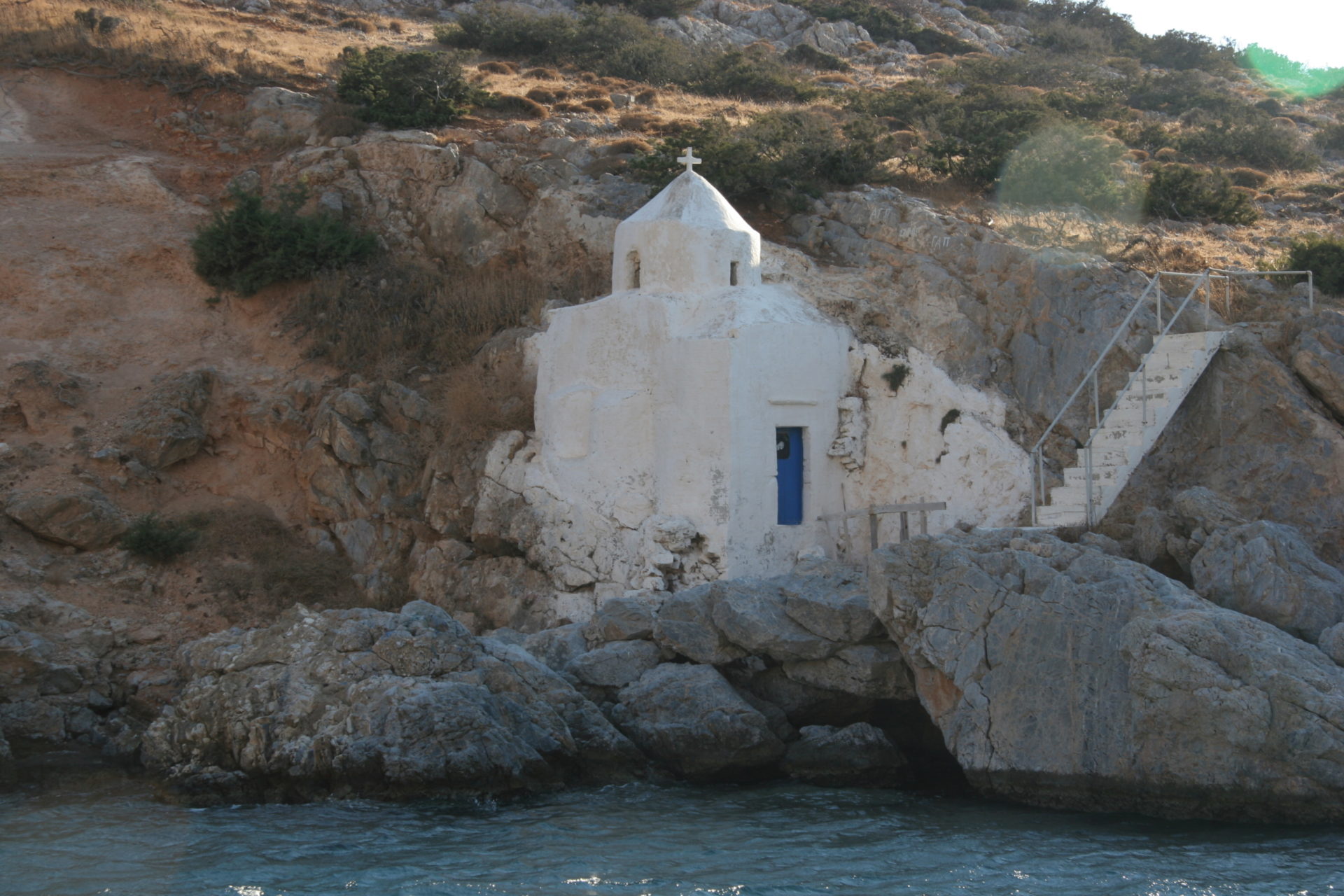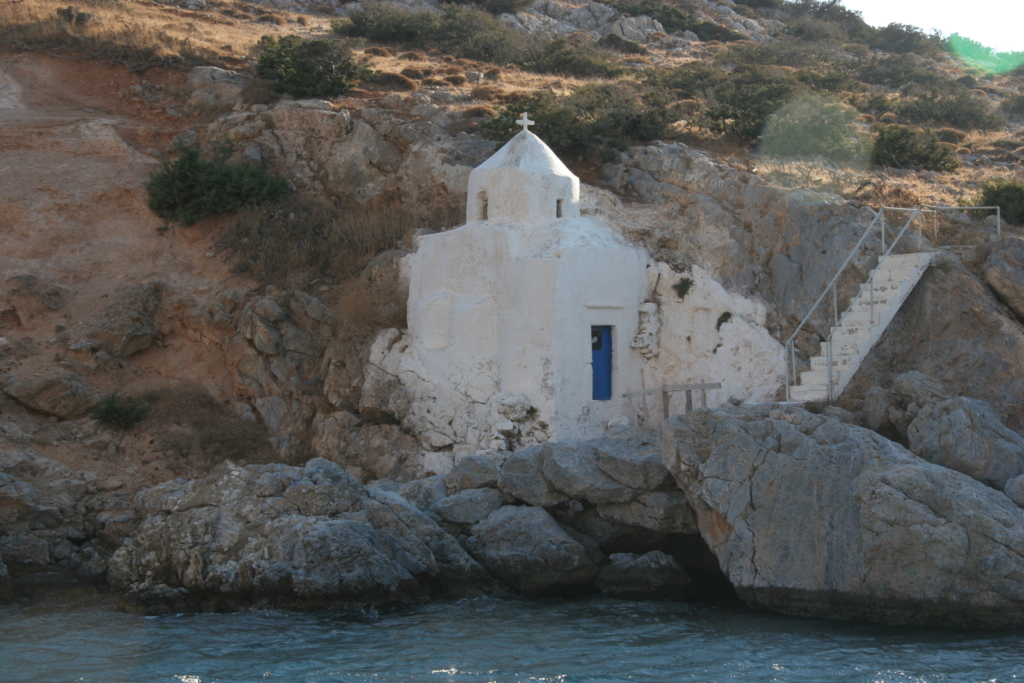 12:00
Stop at the caves on the south of Kato Koufonisi – protected under all wind conditions.
13:00
Visit to the unique caves of Glaronisi (a small island between Kato and Pano Koufonisi); stop for swimming.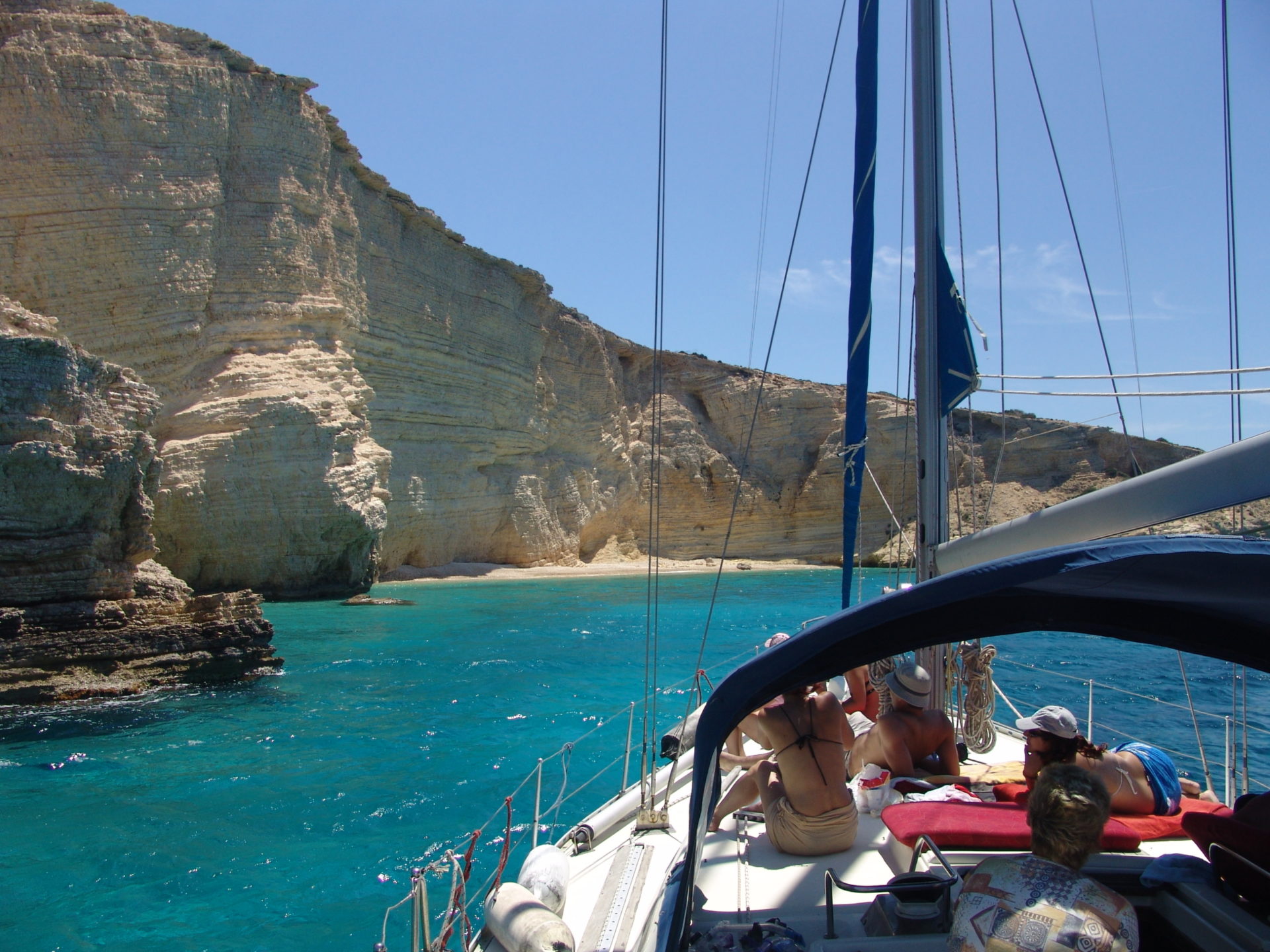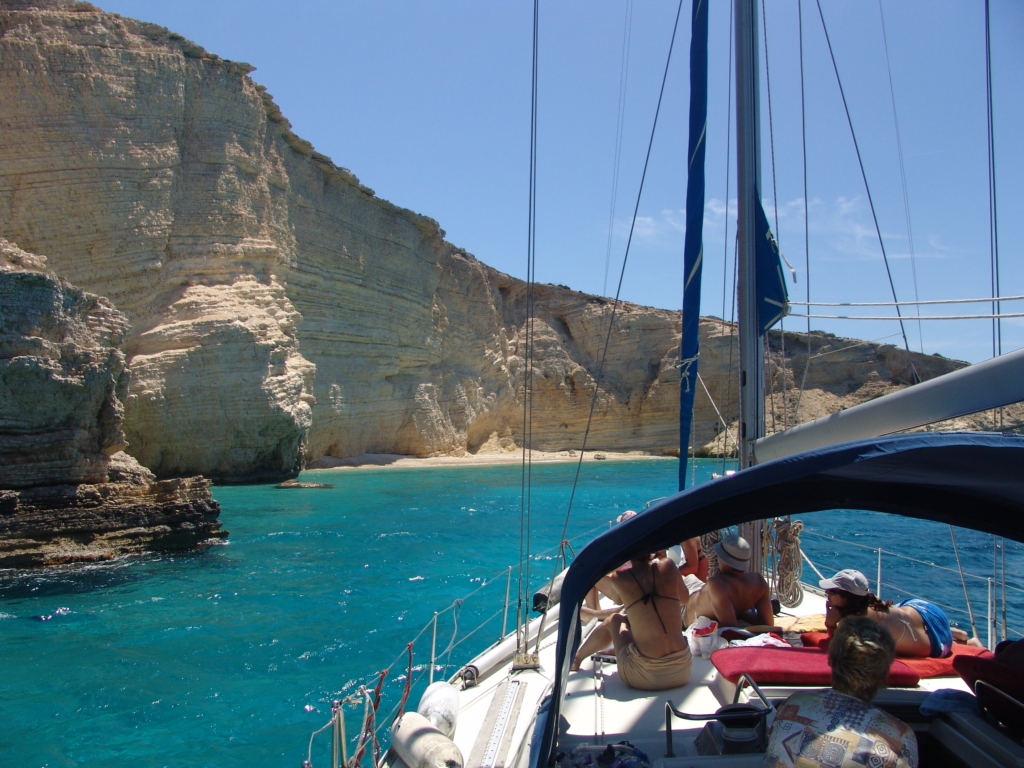 13:30
Stop at the south part of Kato Koufonisi for swimming and lunch/BBQ.
Lunch includes Greek salad, tzatziki, rossiki salad, grilled bread, traditional chickpeas in the oven, hand-made souvlakia (350 grams each) or traditional "dolmadakia", fruit and drinks (water, wine, ouzo, refreshments).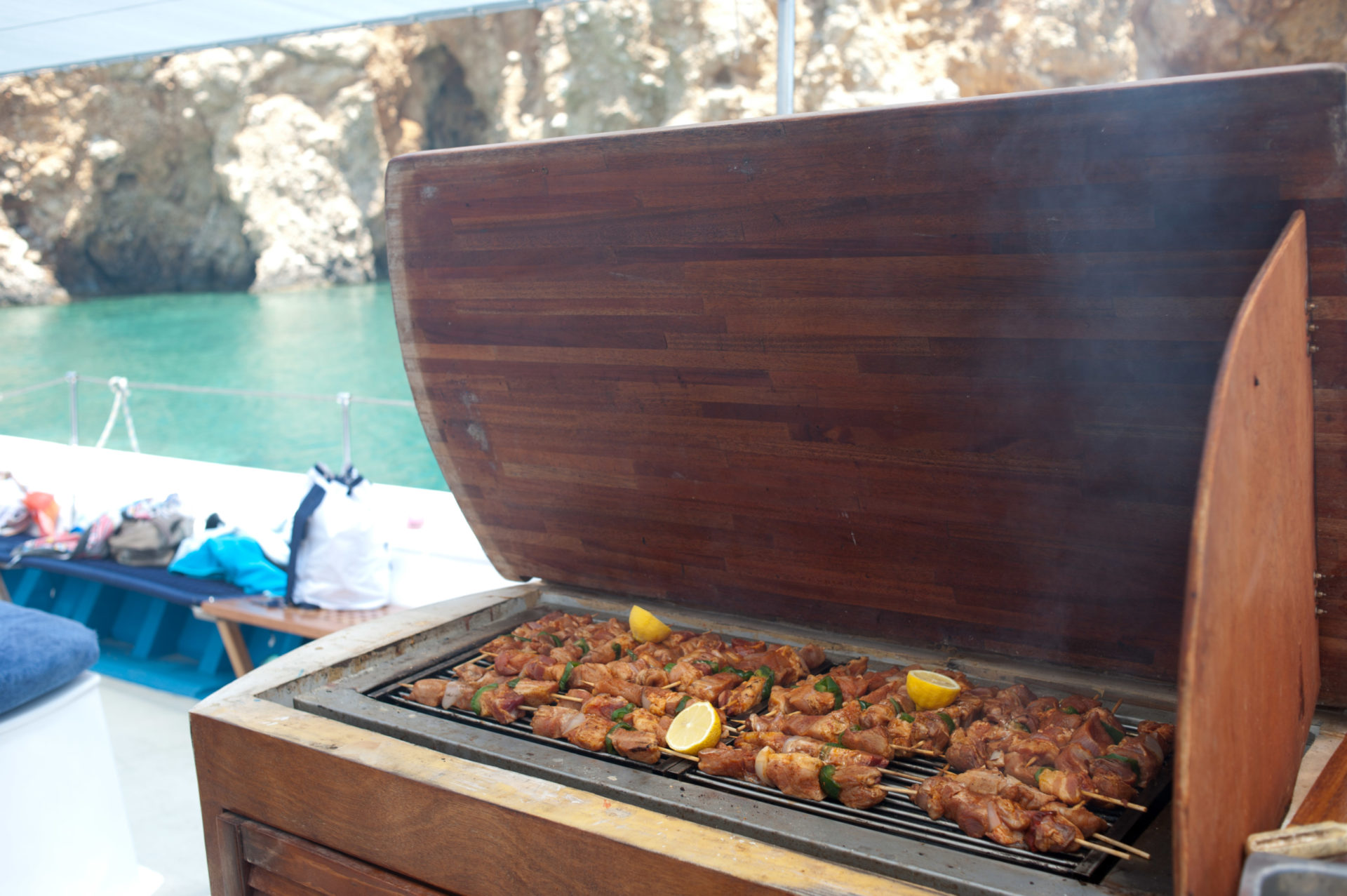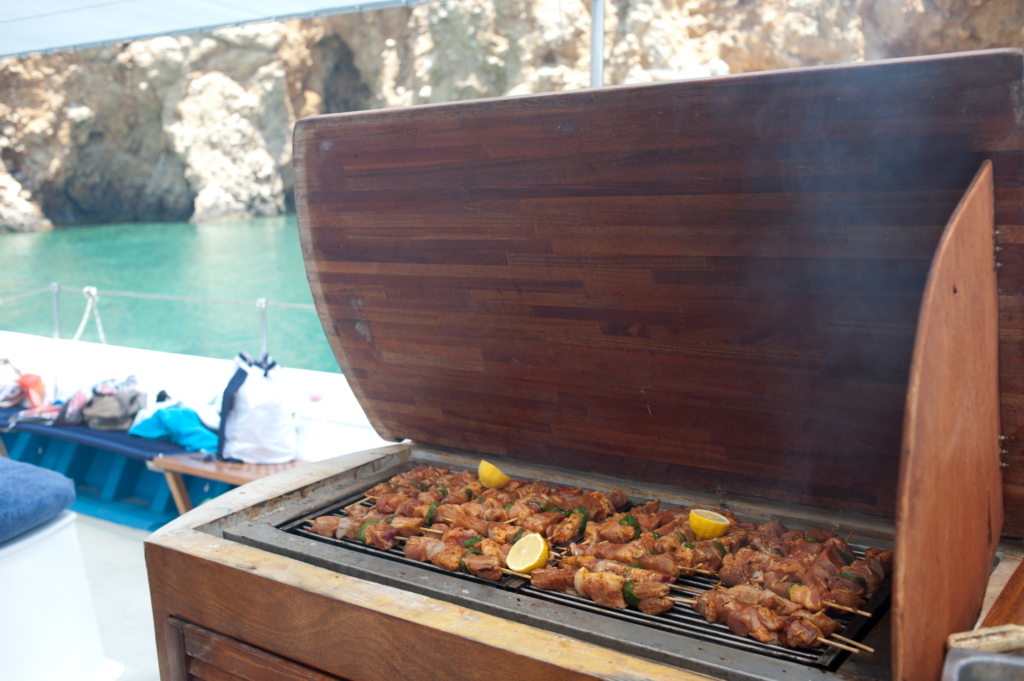 15:00
We will approach port of Koufonisi to see the village from the boat.
Last stop for a swim on the south coast of Naxos, at the beautiful Rina cave.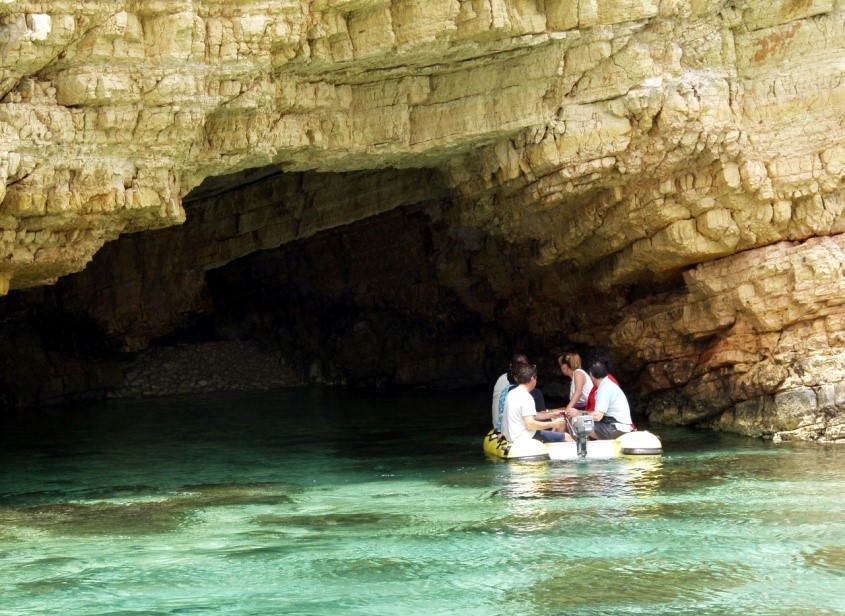 18:30
Arrival at Piso Livadi.
If we are lucky we will see dolphins on our way back !!!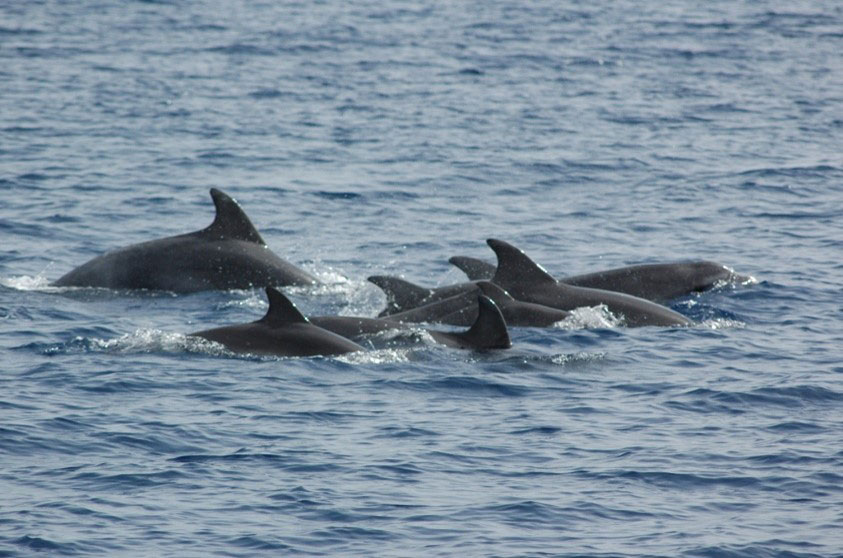 CAPTAIN YANNIS' DIFFERENCE
Discover the secrets of the Aegean Sea and swim into crystal clear turquoise waters, only reached by boat!

Wonderful day at sea with Captain Yiannis This was a magical day from start to finish. Captain Yiannis is the most genial host, so easy going and generous. We had free water, wine and beer all day, coffee and cookies on arrival, a substantial lunch, lots of swimming opportunities with masks and snorkels provided if needed, and a good playlist to keep us enterained. We were four adults, my husband and I and our daughter and her friend and we all enjoyed the day.

Merci capitaine Une journée époustouflante magique magnifique L'accueil est bienveillant formidable Le repas du midi …… salade sûrement fait maison est gourmande appétissante ….une des meilleurs que j'ai mangé depuis mon séjour ….. plusieurs arrêt pour la baignade ….. une journée a ne pas manquer …. J'ai adoré ma journée encore merci pour tout à vous deux et n'oublions pas la personne qui a fait la salade ♥️

Nice but rushed and not enough seating Took this 9-14-21. Got on in Poros. Seating taken up by rude tourist. Forced to sit in smoking section. Gross. There were seats but when ask to sit people just spread their stuff out. Very very rude. Then forced to sit in cabin. Hit snd zero views. Crew did nothing about lack of outdoor seating. Rushed beaches. Rather have more time on one beach than a few minutes on 3.fun but crowded and no nice seating unless you get on first apparently. I would rent a boat for next time. Same price. You can sit outside and not run from beach to beach for a few minutes. Also difficult to get on and off at beaches. Just the design of boat but iffy.

Amazing boat trip ?? Very nice day out with Captain Yiannis ! It was quite a windy day but we felt really safe and had a wonderful cruise. He took us to very pretty swimming spots. The food on board is really good and there is plenty to eat and drink for everyone. My boyfriend and my dad also had a great time !

la plus belle journée de notre séjour sur paros Notre meilleure journée à paros fut celle passée à bord avec le captain yannis. Nous avons adoré cette excursion en bateau et nous la recommandons vivement. Cela reste un indispensable à faire sur l'île de paros. Nous avons été très bien accueillis par le captain, la nourriture était excellente et nous avons pu nager dans des endroits insolites ( grottes , eaux cristallines , criques préservées ) . Les plus téméraires ont pu plonger des falaises et pour couronner le tout nous avons eu la chance de croiser la route d'un dauphin . Une journée inoubliable.

Magnufique journée Journée exceptionnelle avec un super accueil,des escales sur des petits coins de paradis avec baignades et barbecue. Nous vous conseillons vivement cette excursion et petit plus pour nous le capitaine parle français.

Splendide journée Superbe journée !! Yannis et son collègue sont accueillants bienveillants ! Des escales dans des spots magnifiques, BBQ et pleins de petites choses à grignoter toute la journée, boissons fraîches et transfert entre le port et notre hôtel en mini van ! Je recommande vivement entre amis, couple ou famille !
I can't praise this cruise enough. Excellent cruise, the beaches were amazing. The captain is extremely pleasant and polite, and he strives to leave customers happy. We went from one paradise to another, the entire trip is very highly recommended.

Une journée extraordinaire ! 8 août 2021 Son bateau, son accueil, le café du matin, le bbq à bord avc ses salades, les boissons fraîches tout au long de la journée, les encas de l'après-midi, les 5 baignades sur des spots où ns étions seuls, la mise à disposition de masques/tubas/frites, la musique juste comme il faut, la sortie du foc en fin de journée : Captain Yannis a pensé à tout pour que cette sortie soit un très beau souvenir ! Et même si le prix représente un budget, une activité qui occupe de 9:30 à 19:00 avc ces prestations, vraiment, nous recommandons ! Valérie V.

A ne pas manquer Magnifique journée avec Yannis Bel accueil sympathique Nourriture et boissons en abondance . Il a su répondre à toutes les attentes et ça restera un super souvenir . A recommander !